Arc 20 - Regrets - Page 342
February 15, 2019
IF I didn't have this joke somewhere in the comic rather than down here in the news or comments, it would be a missed opportunity forever. We've been using this joke for the past 200 pages, but Sarrah has never come right out and SAID what she did (or didn't do) before. You're about to get some Alpha Omega secrets!
Check out these awesome SpiderForest comics!
Castoff - Vector always dreamed of traveling. He got kidnapped instead. Now, with the help of a short-tempered bounty hunter, a happy-go-lucky cartographer, and many more unlikely friends, he has to try and make it home in one piece.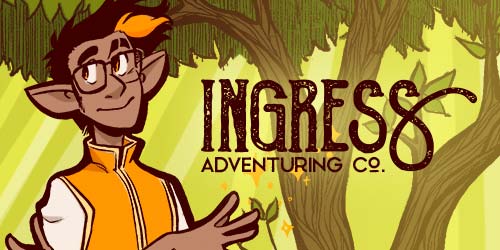 Ingress Adventuring Company - Toivo Kissa is Ingress Adventuring Co., a very small, very wizard-based dungeoneering service. No job is too small, though sometimes his adventures are problems of his own making.
Children of Eldair A sorcerer saves a girl from flesh-eating demons. After trying to use magic to find her friends, he's trapped in a vision of the past--one that will help him save the world and the girl he loves.