Arc 4 - The Yeti - Page 16
December 8, 2010
I have returned from the faraway land of Texas! It is indeed a magical place. Comics will now continue to schedule, sorry for the delay!
This page continues the exploits of the RSQ, mostly featuring Sarah Sawyer of The Gods' Pack getting her arse handed to her by Colbey. Sharon T. Rose appears to have some dastardly plan of her own as she rushes off...BWAH HAH HAH. More Red Shirts on Friday!
Some people have been asking about it, and I'm happy to announce that I will be able to offer the extra updates in January again! If you're new to the comic, I collect funds for the extra updates leading up to the available dates. Each extra update is $20, and regardless of the amount raised, the comic WILL update W/F to schedule. Extra updates will be extra, and not a make up for missing a W/F update. If you put $20 or more in the pot and take care of an entire update, I will mail you a complimentary issue 1 with an original drawing in it to thank you for supporting me and this comic. :)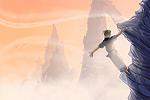 If you were interested in ordering anything from my store as a Christmas gift, please order by the 15th for guaranteed State-side delivery. All What it Takes books will include an original sketch, and probably the Not Alone books as well. The wallpaper featuring Colbey and Peter from What it Takes goes away permanently December 15th! It too is up in the store, for $1.50.
And lastly, there is a very cool and easy contest going on in the forum. Whoever posts the 5000th post gets a free drawing by me. Only about 450 posts to go! Details here.
Comment Replies
(wow there were a LOT of them) Kalakcha: haha! 20/20 retrospective vision, eh? If Colbey's ever in this situation again, I think she'll know what to say to impress the recuiter! Don't think she's going to have much of a chance now though...
Octodude: I heartily approve of any Cash reference.
Onyxsparrow: I must find a way to include "besmirched" in this comic now... :D
Darwin: If you're thinking it's Cabal, sorry to disappoint! I plan on trying to get him in there sometime though!
MSB: I just watched that movie!
Azho: *nods solemnly*
Anon: Yeah, Colbey's attitute is DEFINITELY not the best. Maybe this will teach her an important lesson? We can only hope!
Mark: He's thinking EXACTLY that, actually! Good eye!
tanonev: Yeah, they're off by one. I took some fan art out of the archive.
Sharon: If you thought that made you look cool, just you wait!