Arc 4 - The Yeti - Page 14
November 19, 2010
REJECTION SUCKS. The end. D: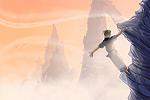 Look what I finally finished! The December wallpaper is now available in the store for the painfully low price of $1.50. It features Colbey and Peter (that dude from Arc 1...) having a tender, smack-talk, moment on a park bench. This wallpaper will only be available until December 15th, and then it's gone for good! Also, no mini-calendar on this one. I couldn't find a place to put it where I liked it. Purchases do not go toward extra pages, they go toward me being able to keep up 2x a week updates. Hopefully I'll be able to bring back the optional 3x a week thing soon. Regardless, this multiple updates thing gets difficult after awhile, y'know? If the comic doesn't make money, I have no choice but to take time off of it for a bit and do more commissions. ...which I will be doing the first week of December. Just FYI. Ug.
What it Takes trivia! Yehti's appearence is in part based on the character Guran from the movie Lagaan.
The Webcomic List Awards have just started! What it Takes would very much appreciate your nomination for Best New Comic of 2010, or whatever other category you think might fit! <3