Arc 4 - The Yeti - Page 13
November 17, 2010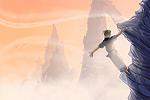 EDIT: Look what I finally finished! The December wallpaper is now available in the store for the painfully low price of $1.50. It features Colbey and Peter (
that dude from Arc 1...
) having a tender, smack-talk, moment on a park bench. This wallpaper will only be available until December 15th, and then it's gone for good! Also, no mini-calendar on this one. I couldn't find a place to put it where I liked it. Purchases do not go toward extra pages,
they go toward me being able to keep up 2x a week updates
. Hopefully I'll be able to bring back the optional 3x a week thing soon. Regardless, this multiple updates thing gets difficult after awhile, y'know? If the comic doesn't make money, I have no choice but to take time off of it for a bit and do more commissions. ...which I will be doing the first week of December. Just FYI. Ug.
What it Takes trivia! Yehti's appearence is in part based on the character Guran from the movie Lagaan.
The Webcomic List Awards have just started! What it Takes would very much appreciate your nomination for Best New Comic of 2010, or whatever other category you think might fit! <3
I'm going to try doing vote incentives again, since that's free advertising. If you click here and "vote" for The War of Winds/What it Takes, you'll get to see an updated, colored and shaded preview of a wallpaper I'm working on of Colbs and Peter, pre End. You can vote for as many comics as you want each day, just once per comic per day. The wallpaper will become available ~Nov 15 for $1.50 in the store, and it will only be available until Dec 15. And, if you haven't checked it out, stuff is for sale at reduced prices in the store. I'm trying to get rid of inventory, and hey, Christmas isn't that far off!
Comment Replies
Darwin: trust that feeling ;)
Mark: M'bad. A few pages back when Colbs is sitting at the bar, I hoped the detail of her drink slowly disappearing would translate into that she'd been sitting at the bar for awhile.
Xanthine: Guess you missed that stream session where I explained what that meant! hehehe.
MSB: I know nothing...nothing!
Sharon: ha!