Arc 19 - Punctuated Equilibrium - Page 16
May 13, 2015
If you want to comment on this page, until I find out why the comment system is so screwed up, go back a page, then forward a page. The ID will track correctly then.
Vote to see...a sketch of the next page!
She actually sliced through his thumb in that first panel. You can see it all dangle-like in the last panel. The previous flurry at the end of the last page was just to freak him out to buy time.
Friend and fellow SpiderForester Delphina has only a few more days to go on her Kickstarter campaign! Please check it out and back it if you can! She's an amazing creator!
Archive page has updated too.
Finally, I forgot to pay a bill last month and now I'm late and need some money. Some original (blue ballpoint pen) artwork up for grabs! Click to embiggen.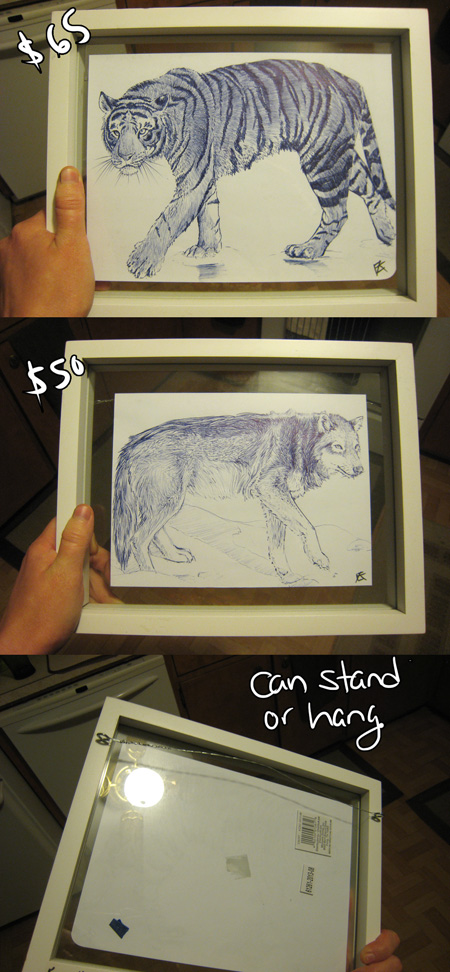 Prices do NOT include shipping: $6 stateside, $12 international. 8x10" frames ARE included (~$15), and they are the kind that can stand on a table, but I modified to hang. They are a dinged up a little but nothing too bad. In addition, these come with the aura of pain and suffering of medical school (during the classes of which they were drawn), guaranteed to cheer up any room.
Email warofwinds@gmail.com if you're interested! These come directly from my sketch book, which has rounded corners (hence the one corner on the tiger). Please note, the frames are 8x10, the images a little smaller. Use my tiny hand for reference.