Arc 17 - Whizard and the King - Page 23
December 10, 2014
Well, that wraps up the chapter!
Vote to see a preview of the Arc 17 Extension: Avalon!
Ok, so does everyone understand what Marlin and Noor are talking about here? A few comments from the previous page seem to say yes, and a few definitely not.
The 21 page Arc 17 extension should be available Friday. I've got 11/21 pages inked.
Dog update: Indy has been slowly bleeding for 4 days now, but retains the ability to walk, eat and drink, mostly under his own power. He is being spoiled with egg sandwiches, sweet potato, and steak, mostly because he refuses to eat anything else. He is slowly getting better, but he's definitely improving slower each time. Right before Thanksgiving I got bloodwork done to see his capability of recovering between bouts, and it was nearly normal, only slightly anemic, otherwise good. Ideally, he will be able to recover a bit from this bout, and then have surgery, should imaging on Thursday (US, maybe CT) show an absence of liver metastasis.
So in that regard, I need to raise around 3k in total. These paintings are now for sale, for $125, including shipping. They are 10x10" canvases in acrylics. I will NOT be making prints of these (but I will make some digital ones in time. I just can't get good scans of these). This picture is unedited, taken in daylight.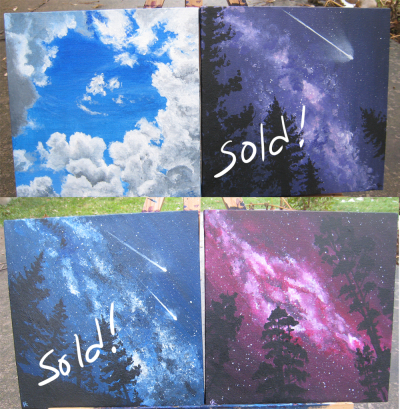 Click to embiggen. EMAIL ME at warofwinds@gmail.com to buy! I will then give you directions on payment through Paypal. The top right one is already gone! I hope to make more as Christmas approaches.
Please come back Friday for the Arc 17 Extension, which occurs immediately after this.
Comic of the Week is MoonSlayer!
This fantasy manga follows the story of a princess in exile, trained by a warrior dragon and friend of a witch, destined to kill the Moon. Monica is an amazing artist and writer--you'll totally enjoy the story!