Arc 7 - Fortune Cookie - Page 22
October 12, 2011
AHHHHHH I'M BAAAAAACCKK AHAHHHHH!
Ok, now that THAT'S out of my system! It's so nice to work on my OWN computer in my own apartment with a dog that ISN'T moaning in pain on the floor. Hopefully his last vet visit is today. Half of the wound has started to heal very nicely. I'm waiting on the other half. My credit card is making a D: face every time I walk out of that place, but whatever it takes to keep the Shuskamute healthy!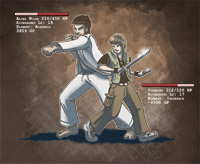 IF YOU GO BACK ONE PAGE you can see an image I've got up for raffle! It's an awesome pic if I do say so myself, and contains teasers! Tickets are $2 each, all donations from the past 6 weeks automatically get you tickets. There is of course, no limit to tickets! Like I said before, my parents are helping me cover the cost of the vet expenses, so no worries about Indy. Buy your tickets through the Chip-in widget at left (no it's not an ad!) Everyone still gets the wallpaper too!
About today's page, you recognize the scene? It was awhile ago in the comic, but it's the SAME NIGHT! I like to fill in more and more details about events as we go, and not dish it out all at once.
During my forced computer-less week, I scripted out the next 2 arcs, and I cannot WAIT to get to the real details of what happened that night.
In other news, check out this awesome sketch of Peter by Denise Randall! Also, Colbs got a cameo over at Cetiya!