Arc 7 - Fortune Cookie - Page 21
October 5, 2011
EDIT: I am always forgetting to put this up.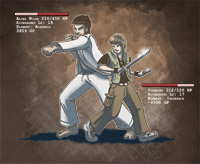 This special wallpaper is still available for a suggested donation of $2. Any amount is accepted, and I will email a link where you can download multiple sizes. Donate via the chip-in at left (it's through paypal) or send it to warofwinds@gmail.com. And please remember, issues 1-5 are for sale, and if you buy them, I include drawings! You can buy them
in the store
for $5 a piece. Thank you all so much for the support, especially right now. About to head out to the post office now to mail a few issues.
I am updating this between classes and I'm already late.
Long story short: Computer got it's ass kicked by some damn virus. If I ever meet the person, people or group that made that virus, I will eviscerate them. Haven't had a computer since last Wednesday, won't get it back until this coming weekend. Hopefully there will be another update next Wednesday.
The dog is doing fine now. He did something, stepped on something, I dunno, in the park, and after 4 vet visits and surgery, landed us with a $700 bill. I love my dog far more than I love my credit score, but holy crap. 0.0
And, to round things out, I got corpse-juice in my eye during anatomy. All of this happened on the same day, just FYI.
BUT I DON'T CARE IT'S MY BIRTHDAY THIS WEEKEND AND I WILL HAVE SOME FUN. Or something.
Enjoy the kiss, it's the last one they'll have for awhile. Ever? Hah. Back to the grind, see you later.