Arc 7 - Fortune Cookie - Page 18
September 16, 2011
Vote to see an image of Colbey doing DDR
with Vix from
Dream*scar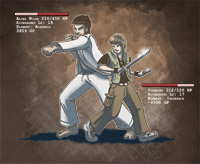 Got a little something to offer oh-so-generous-and-wonderful fans! Long story short, got a lovely overdraft fee and subsequent other bills that I can tell I'm going to have problems covering in a...timely...manner. So, whipped up a wallpaper tonight featuring Peter and Colbey with some fake videogame stats. It's available for a suggested donation of $2. This means you can put in any amount and I will email you the link where you can get a bunch of sizes. The Chip-in widget where you can do this is AT LEFT IN THE SIDEBAR. Or you can send a direct amount to warofwinds@gmail.com using paypal. That works too. Either way, I'll email you the link ASAP, definitely on the same day. I can't promise any extra updates now that med school has started, so this is the best I can do :( But it's a fun wallpaper I promise!
Also, a reminder that my online store has been updated will all sorts of new and geeky T-shirts! Indiana Jones fan (y'know, before Lucas ruined it with that fourth installment...)? Thundercats? Star Trek? Zombie apocalypse? Check it out. I make 50 cents a shirt, I know it's still expensive. I've got a few more designs in progress, Donkey Kong related as well as Dr Who. Geek I am!
Next, are readers here aware of this other comic that I make, titled The War of Winds? When I made this new site design awhile ago, I wrote a note to myself to design another link button back to my first and longer running comic...but obviously that never happened. I'm writing another mental note now. But if you're bored at work and you want to see the first ever comic I worked on, a comic that is still going after 7 years, go check it out. I recently threw a curve ball at the audience over there with a recent storyline shift, but hey, I'd been warning people over there that the "epic fantasy" was really an "epic science fiction story" whose characters were unaware of the science aspect.
I've got my first med school exam today, wish me luck!