Arc 7 - Fortune Cookie - Page 16
September 9, 2011
Edit: FUUUUU--- just realized the wrong hand is releasing Scot's shirt. Will fix later. Also, I like drawing people wearing a gi waaaay too much.
Vote for the same fake ending panel to Wednesday's comic! Indiana Jones reference, FTW.
The second week of med school is drawing to a close. My new life is strange, in a good way. Just like this comic arc, I hope. Which is also drawing to a close in a few pages. I think you all will like this particular flashback. When it comes to these kind of scenes, what I really love to do is kind of what JJ Abrams did in Lost, which is to take you to different times that occurred during the same event. Flashbacks have brought us to two events so far, both of them 8 years ago--first, Colbey's first day at this dojo, as seen in Arc 1. And second, to the last day Colbey ever saw Peter face to face.
This flashback, as you'll see, takes us again to the latter date, the same night as in Arc 4: The Yeti. A funny, though immaterial spoiler I have for you is that Colbey's landscaping gig (as mocked by dear Dr. Snatch) makes an appearance. There are some major revelations here which will reward those who pay close attention to certain details.
Anyway, that's all the breadcrumb laying I'm doing tonight. Hopefully I will update this in a few hours with a fancy schmancy new download image...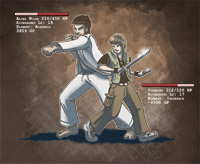 Well looky there! Managed to get it done. So, long story short, got a lovely overdraft fee and subsequent other bills that I can tell I'm going to have problems covering in a...timely...manner. So, whipped up a wallpaper tonight featuring Peter and Colbey with some fake videogame stats. It's available for a suggested donation of $2. This means you can put in any amount and I will email you the link where you can get a bunch of sizes. The Chip-in widget where you can do this is AT LEFT IN THE SIDEBAR. Or you can send a direct amount to warofwinds@gmail.com using paypal. That works too. Either way, I'll email you the link ASAP, definitely on the same day. I can't promise any extra updates now that med school has started, so this is the best I can do :( But it's a fun wallpaper I promise!
Thanks for your continued support. You readers are awesome, whether you support me/this comic/this site with donations or simply your magnificent presence. <3 <3 <3