Another update!
August 18, 2018
I did it guys! The test is over! And I know I prepared sufficiently for it so I'm not going to stress out about it any more. But believe me when I say that this exam kinda determined my whole future, so thank you for bearing with the lack of updates while I secured the freedom to have choices in residency <3
Not Dead
August 4, 2018
Sorry for the radio silence.
I have been studying for the giant, life-altering, ever-important Final Exam of Medical School. It is eating up the great majority of my days!
And THEN I'm away living in another city for an entire month doing in an internship, and I won't have my computer! I'll do my best to get you updates in the coming 6 weeks, but I can't promise very much :( I'm very sorry!
If anyone has any What it Takes related art or fiction they'd like to send in meanwhile, I'd love to put it up on the site and link you (or a reasonable site of your choice). Warofwinds@gmail.com
Send positive vibes and/or chocolate.

Arc 20 - Regrets - Page 304
July 18, 2018
Uh, Colbey...he seemed kinda important.
Oops.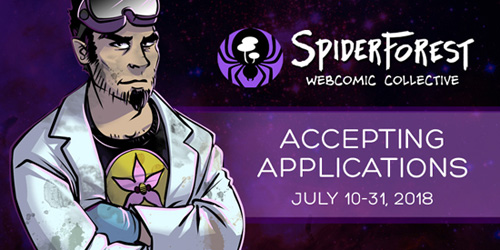 SpiderForest is accepting applications for new members! Please share with anyone you think would be interested in joining. SpiderForest is an independent, volunteer-administered, democratically-run collective of [international] webcomic creators. Applications accepted until July 31! Check out our handy (but unofficial) quiz to see if SpiderForest is a good fit for you!
And, check out this AMAZING piece of crossover art by Keii4ii of Heart of Keol! WHO WILL WIN!? Colbey, or Astyr of Sombulus??? I have my opinions...:P Kick his ass Colbey! (But spare his pretty face).