Arc 4 - The Yeti - Page 7
October 19, 2010
And here begins the latest flashback sequence! All tremble at the sight of Colbs in a skirt with longer hair! D: Also, I must not have been looking at my script on the last comic, because I mixed up some narrative. Fixed now. Refresh the last comic.
Posters in the store are 1/2 off. I want them out of my take-to-convention box. Check 'em out, as well as what is already up! There is now also a new digital wallpaper calendar available for November. I've decided I'd like to try and get them out earlier. For November I finished up the last of the four part series of the Four Winds for my other comic, The War of Winds. It's much longer and different than this comic. Click the pic to go see the preview of the wallpaper!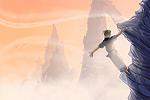 Comment Replies
Sayanni: Hahah! Glad you enjoyed that. Always trying to sneak in little details like that.
MSB: Yeah, I wonder if that false affiliation thing is gonna come back and bite her on the butt? hehehe
Ink: hardy har har.
Babs: Yay, you recognized her! <3
Darwin: MSB has your answer!